Home

/Fit & Fare/

Vegetarian

/On the Grill/

Leftovers

/Breakfast/

Sauces

/Gravy/

Dips & Dressings

/Menu for a Month/

Cooking Tips

/Frugal Living
Pancakes Waffles French-Toast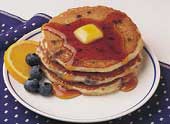 Buttermilk Pancake Mix
Water
Blueberries, Bananas, Chocolate Chips, Butterscotch Chips, Whip Topping or Pecans (whole or crushed) (All Optional)
| | |
| --- | --- |
| Mix pancake mix according to directions. Drop by ladle full on hot griddle. Sprinkle desired topping/filling over cooking pancakes. When pancakes are bubbling and cooked dry around the sides, turn over. Continue cooking until done. | |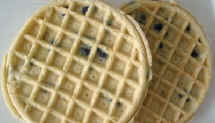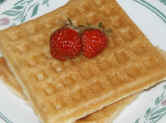 Buttermilk Pancake Mix
Water
Blueberries, Bananas, Chocolate Chips, Butterscotch Chips, Whip Topping or Pecans (whole or crushed) (All Optional)
Mix pancake mix according to directions. Drop by ladle full on hot griddle. Sprinkle desired topping/filling over cooking pancakes. When pancakes are bubbling and cooked dry around the sides, turn over. Continue cooking until done.
Bread Slices
Eggs
1-2 Tbs Milk
1 Tsp Vanilla Extract (Optional)
Cinnamon (Optional)
Powdered Sugar, Whip Topping, Fruit topping (All Optional)
Whip eggs, milk, cinnamon and vanilla if desired. Gently dip bread slices in egg mixture and place on hot griddle. Cook a few minutes until bottom side is done, flip and finish cooking other side. Put on plate and garnish with syrup, fruit, powdered sugar, whip cream, peanut butter or what ever you desire.

If making sticks, slice bread before dipping.
---
Please feel free to contact us with Questions, Comments, Concerns, Compliments: E-mail us